Products
Please see the wide selection of Yonezawa Meat Cooperation
Yonezawa Beef
History of Yonezawa Beef cattle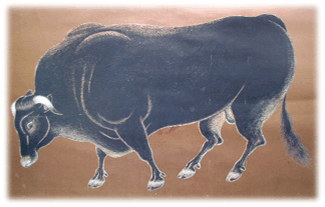 The history of Yonezawa Beef goes back to the period of domain duties.
At that time, iron was produced in the Nanbu-Sanriku district in the east of Tohoku area. This iron was carried on the back of the Nanbu cow and sold to the hardware store in Echigo-Sanjo area in Niigata pref. On the way home, the merchants were accustomed to selling the cows whose trucks were empty to the villages along the Echigo Way running through the Yonezawa area. In this way, the Nanbu cows came to the Yonezawa area to be raised. These cows grew into good cattle in an environment with plenty of grass, mineral rich water, and full of nature of inland climate.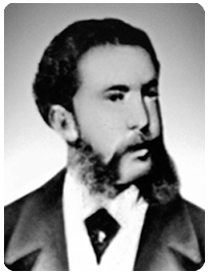 Mr. Charles Henry Dallas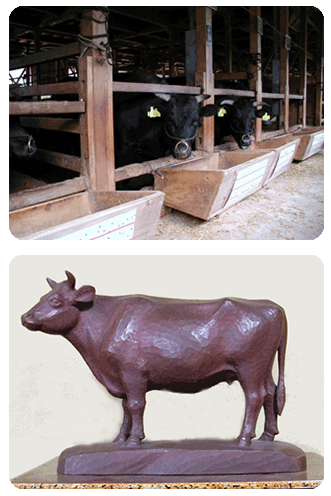 In the Taisho era, farmers in Yonezawa introduced the method of raising Kuroge Wagyu cattle as same as Matsusaka Beef and Omi Beef, and made efforts to create a new Yonezawa Beef. As a result, thanks to the outstanding fattening technology cultivated in the past many years and the natural environment, they succeeded to produce superior quality beef cattle in Yonezawa.
 Rain and snow falling in the Yonezawa Basin will be submerged in the underground, and it will become a soft spring water containing a lot of minerals. This water plants the seeds of "finely textured" and "mellowness" for beef.
In addition, the environment having drastic changes in temperature makes moderate "tightness" and "fat" for beef. Then, the cattle are fed with feed originally devised by livestock farmers. In this way, beef matures to superb "marbled meat" with good taste and aroma, and it becomes our proud "Yonezawa Beef".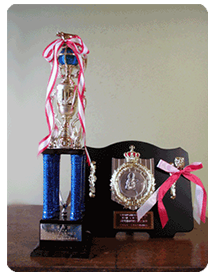 In recent years, we have received the honor of the higher-ranking winning, such as winning the best award at the "Japan carcass competitive exhibition", annually held in the Tokyo meat market. This proves the high quality of Yonezawa Beef.
 Today, Yonezawa Beef steadily obtains a deep trust for its high quality and safety from all over the country as a brand beef representing Japan.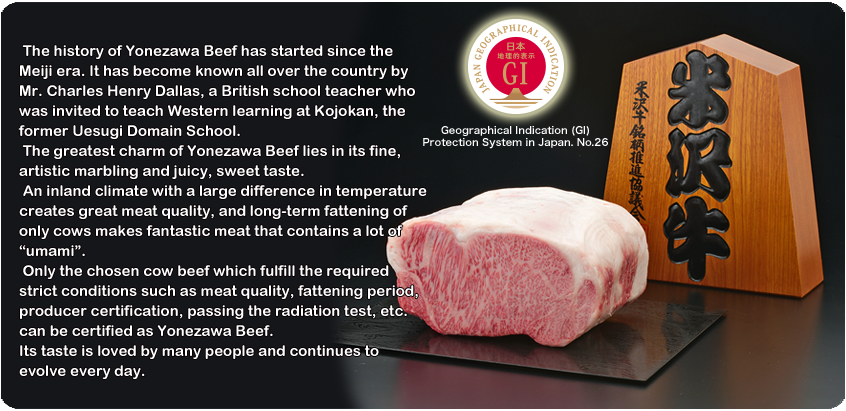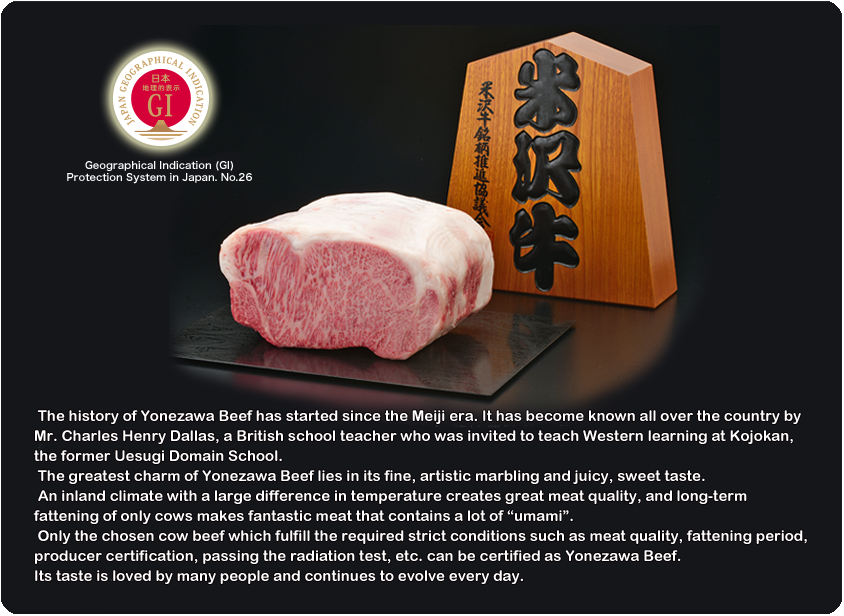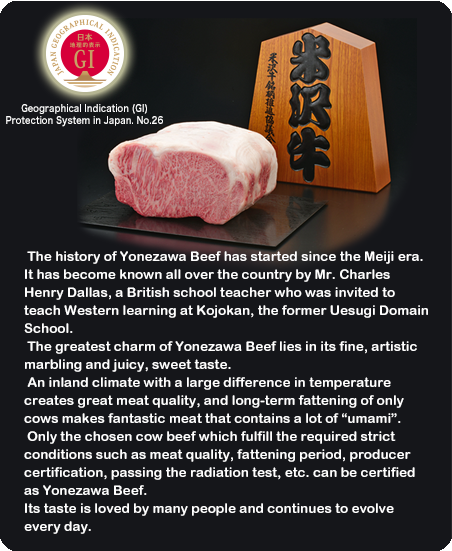 GI mark (Geographical Indication (GI) Protection System in Japan)
GI is a system that protects an intellectual property when the quality of agricultural and livestock products is linked to the production site as a feature derived from the regional climate and traditional production methods. The presence of the GI mark means that its quality received a certificate from the Ministry of Agriculture, Forestry and Fisheries of Japan. Yonezawa Beef is registered as a representative brand beef in Japan. (Registration No. 26 of the Ministry of Agriculture, Forestry and Fisheries of Japan)
Products
We slice beef and sell the sliced beef for business use and gifts, mainly in the Tokyo metropolitan area.
For Grilled meat:
Meat is tender and smooth.

For sukiyaki:
Meat is moderately marbled and tastes the best.

For steak:
Meat has mellow fragrance and smooth taste.
Okitama Pork

The locally produced pork in Okitama region, the southern part of Yamagata Prefecture where Yonezawa Beef is grown, is also the best.
We take advantage of our original perfectly integrated manufacturing system existing in the same facility and manufacture fresh, high quality pork.
We also ship "Recommended pork of Yonezawa Meat Corporation" which has cleared our own strict criteria such as backfat thickness and carcass weight, and its rating of "Japan meat rating association" needs to be above "upper" or "middle".
Besides, we manufacture some local brand pork, such as called "Yonezawa pork Ichiban-Sodachi", "Tengen pork", and "Yonezawa Sangen-pork".

Recommended pork of Yonezawa Meat Corporation" mark
We call the pork meat as "Recommended pork of Yonezawa Meat Corporation " when it clears our own criteria such as backfat thickness and carcass weight, and its rating of "Japan meat rating association" needs to be above "upper" or "middle".
| | | |
| --- | --- | --- |
| For pork cutlet | For shabu-shabu | For ginger pork |
Organ meat
The organ meat (tripe) has a unique texture that makes you addicted, and plenty of iron, zinc, collagen and vitamins for your beauty and health. You can enjoy and eat more delicious by knowing each part and feature of organs.
We manufacture fresh, safe and secure products, and they attract a wide range of customers.
We are making efforts to improve our product more according to customer's needs.
| | |
| --- | --- |
| Beef tripe | Pork tripe |
Delicatessen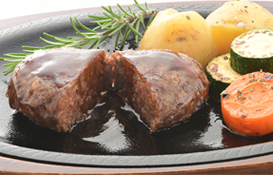 Gingered beef:
Yonezawa Beef with ginger and special sauce. It is simmered for a long time until the meat becomes soft.

Retort pork bowl:
Our retort pork bowl with fresh pork can be used for any purpose from business use to souvenir use.

Braised beef tripe with cow tendons:
You can easily enjoy stewed dishes that cannot be easily cooked at home
Processed product
In the meat processing division, we manufacture and sell processed meat products such as Vienna sausage, ham, smoked beef tongue, salami, etc.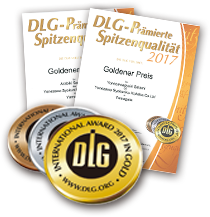 Won the "Gold Prize" at the DLG Food Contest 2017.
DLG Food Contest is the international quality contest organized by the "German Agricultural Society" headquartered in Frankfurt, Germany, founded in 1885.
In the contest, there are about 200 examination items such as taste, color, incense, additives, spices, etc. The "Gold Prize" is awarded only to products that have cleared all these examination criteria.
| | |
| --- | --- |
| Yonezawa Beef salami | Yonezawa Beef roughly ground sausage |